Q&A: "Help! A creditor froze my bank account!"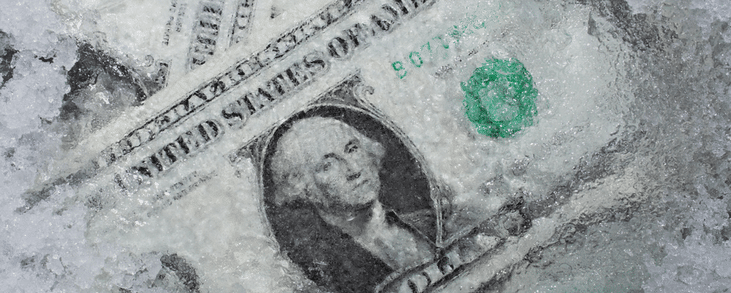 You might be scared and stressed out when your credit card keeps coming up as invalid and your checks are bouncing. Getting your bank account frozen is not a pleasant situation and can be confusing.
This occurs when, instead of going through a debtor's property or employer, a creditor goes directly to a debtor's bank and freezes their account. The majority of the time your account is frozen is because you owe someone money. It is important to understand what this means for you.
Here is what you need to know:
What is a frozen bank account?
If your bank account has been frozen, it means your account cannot be used to withdraw money, write checks, make transfers, or fund your bill pay services. The first action you should take is to call your bank. There are various reasons why your account could have been frozen and, therefore, each requires a different solution. According to NOLO, the most common reasons this occurs is because of unpaid debts through creditors, illegal activity, and unpaid debts to the government.
It is important to note that even if a creditor freezes your account you still may have some limited access. For instance, you might still be able to make deposits into your account and check your transactions. If you have a direct deposit for your income set up with your account it might be best to stop the deposit immediately, as you might not have access to this money once it enters the account.
How did a creditor get the right to freeze my account?
"Was there a warning and did I miss it?" You might be asking yourself this question when it comes to a creditor freezing your bank account. It is worth noting that, in most states, creditors cannot freeze your bank account without a judgment.
So, what is a judgment? A judgment represents a legal obligation to pay a debt. What this means is a collector sued you over an unresolved debt and won. It's important to note that you can settle, appeal, and even reverse a judgment, depending on the situation. The judgment intends to pressure a debtor to ultimately transfer money to a creditor through a court's enforcement. If you have received a judgment, you may not know who to turn to to get the best possible help. But here at Tayne Law Group, we are proficient in resolving judgments in a number of different ways! Let our experienced staff talk to you about how we can get your judgment or lien thrown out or potentially resolve it through settlement.
Know the law!
The good news is if you're a New York State resident we have some of the strongest laws protecting people from money judgments. In New York State, the Exempt Income Protection Act (EIPA) protects bank accounts and limits the ability of creditors and others to freeze certain funds in someone's accounts. This can include certain portions of wages. Depending on your bank account balance, you may even have entire protection from a creditor freezing your account to pay private debts such as credit card debt. However if you owe child support or taxes, or have student loan debt, different rules apply.
How can Tayne Law Group remove the freeze on my bank account?
There are a few methods we at Tayne Law Group can do to help you resolve a frozen bank accounts. Call our debt solutions law firm today at 631-470-8204 for a free, no obligation phone consultation. We can help provide answers as well as help resolve your frozen bank account!